SPRINGFEST VENDORS
Over 200 Artists
Springfest brings together exceptional artisans and exhibitors from coast to coast. Our 4-day festival will feature works of art and fine crafts presented by more than 200 artists. A wide variety of handmade art will be available in many mediums, including clothing, textiles, glass, jewelry, metal, painting, photography, pottery, specialty foods, and wood.
Artisan Tents
ARTISTRY & CRAFTSMANSHIP SHOWCASE
If you're interested in discovering exquisite handmade products, you won't want to miss the artisan vendors at the event.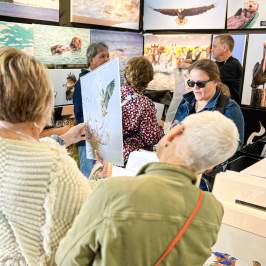 Midway Vendors
SHOP & DISCOVER GIFTS AND MORE
Explore the array of high-quality items showcased by our vendors at the event. From cutting-edge technology to stylish clothing and accessories to gifts, you're sure to find something that catches your eye and meets your needs.
Plan your Springfest Trip
Enjoy music from over 20 groups from across the globe showcase many musical styles from rock, country, fusion and R&B on 2…
From classic festival favorites like funnel cakes and hot dogs to more unique options like crabby pretzels and homemade…
Settle in for Springfest. Pamper yourself in a luxury resort, relax in a quaint seaside motel or condo, or find the…