Assateague State Park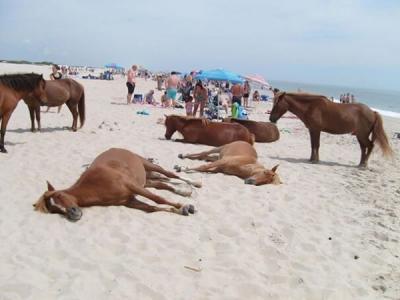 Assateague State Park is Maryland's only oceanfront park. It is located on Assateague Island, a barrier island bordered by the Atlantic Ocean on the east and the Sinepuxent Bay on the west. Its two miles of ocean beaches offer swimming, beachcombing, sunbathing, surfing and fishing. The bayside offers visitors the chance to explore secluded coves by canoe or kayak. The marsh areas have a variety of wildlife, including deer, waterfowl and feral horses.
Ocean City is approximately nine miles north of the park and can be seen from the island.
Features: concession stand, boat launch, kayaking, clamming, canoeing, fishing, ocean swimming. Beach area & marina open year-round. Note: please use X15 when calling. Camping -Last weekend in April-last weekend Oct. Bath House, Camp Store, RV's, Tents, Electric, Water Hookup, Sewer Hookup. Ranger Station/Campground Office phone number: 410-641-2918
7307 Stephen Decatur Hwy.
Assateague State Park is Maryland's only oceanfront park. It is…