One of The Most Exciting Boardwalks in America!
The Travel Channel called our classic wooden boardwalk America's best. National Geographic named it one of the top 10 in the U.S. And USA Today named it one of the nation's best boardwalks for food. In short, it's nearly three miles of highly concentrated fun.  Packed with family-friendly activities, restaurants and shops, the boardwalk is a great place to visit all year long.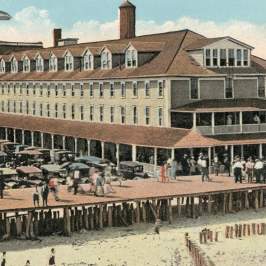 The History Behind
Ocean City's Boardwalk
The Ocean City Boardwalk is an entertainment mainstay for visitors and locals alike and has been for more than 100 years.  Hotels and businesses, like the Atlantic Hotel, would lay down boards for guests to walk on and remove them at high tide.  Around 1910, a permanent promenade was constructed.  Throughout the years the boardwalk has changed, but to this day many businesses still remain.   Fisher's Popcorn is celebrating its 86th year this summer, Thrasher's French Fries is one year away from celebrating its 95th anniversary, Dolle's has been operating since 1910 and Trimper's has been in existence for 130 years.
Boardwalk Experiences
Sometimes you don't want to travel far to have a day filled with relaxation, exciting adventures, and good food. Luckily, in Ocean City, you don't have to. You can have the perfect day without straying far from the famous oceanfront boardwalk. From unbeatable views, great shopping, and an endless selection of places to eat, you can find it all at the Ocean City Boardwalk.
Related Articles and Features
Browse our list of webcams and see what's happening live at the beach. Check the current…
Ocean City, MD has fun and free family activities and events happening all summer long for…
The ocean breeze, beach, sand, and family atmosphere are just a few of the reasons why you will…