Ocean City Tennis Center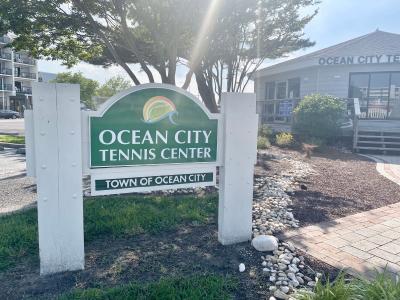 The Ocean City Tennis Center, located on 61st Street Bayside, is home to Ocean City's finest tennis facility. - Featuring six (6) Premier Courts, and three (3) Lee fast dry clay courts. 
Professional staff on duty from May 15 to September. One of only 3,000 USTA Tennis Welcome Centers throughout the United States. 
Full agenda of tennis activities: Tournaments, Women's & Mens Weekly Flights, Holiday Mixers, Tennis Outings and more. 
Full Instruction Program: Ocean City Tennis Academy, Pee Wee Tennis Camp, Adult Tennis Camps Private Lessons. 
Other amenities offered at Ocean City's Tennis Center: on-site free parking, restrooms, tennis lounge, and tennis shop.
The Town of Ocean City operates three (3) other tennis sites which host free play, first-come, first-serve courts. These sites include 3rd Street and St. Louis Avenue, 94th Street and Bayside, and Gorman Park on 136th Street and Derrickson Avenue (Bayside). Junior activities, leagues, and clinic play are centered here. Ocean City's Tennis Manager can be reached at this facility through the summer season.  For more information, visit The Ocean City Tennis Center website.